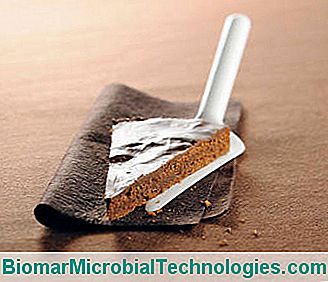 Here is a tasty and crunchy chocolate dessert with the recipe of the crunchy chocolate cake.
Easy and quick to prepare, it should delight the taste buds of your guests.
Preparation time: 30 minutes
Cooking time: 20 minutes
Ingredients for 6 people:
100 g Lindt chocolate to cook 70%
100 g of butter
150 g of sugar
50 g of flour
3 whole eggs
Recipe of the crunchy chocolate cake
1. Warm in a bain-marie the dark chocolate broken into pieces.
Meanwhile, soften the ointment butter with a spatula in a terrine.
Mix these two ingredients and work the mixture until smooth.
2. In addition, mix the sugar, flour and beaten egg omelette. Then add the chocolate paste and work it for about ten minutes.
3. Pour the mixture into a nonstick tart pan 22 cm in diameter and bake in the oven at 200° C (6/7) for about 20 minutes.
Cool and unmold.
4. It is possible to glaze the top of the cake at the end of the oven with a slab of melted milk chocolate in a little sweet milk and a knob of butter.
Enjoy your meal!
Photo credit: Ed. Solar