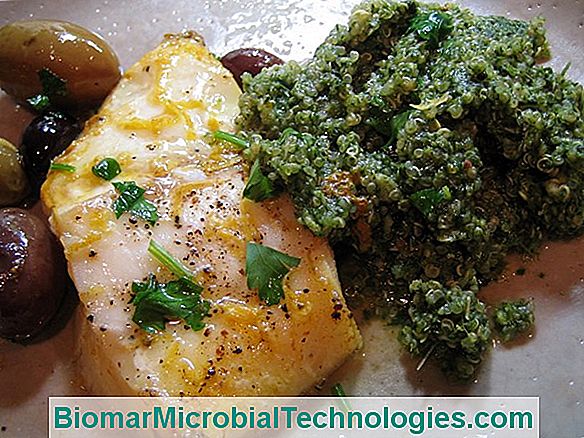 Full of freshness and scented, this recipe of cod with lime and quinoa is delicious.
Ingredients for 4 persons:
4 cod fillets
25 cl of cream
1 lime
1/2 zucchini
1/2 pepper yellow
20 Cherry tomatoes red and yellow
1 tbsp. tablespoon of olive oil
salt pepper
250 g of quinoa
1 liter of vegetable broth
15 g half-salted butter
To read also: benefits and virtues of quinoa for health
Cod with lime and quinoa
For cod fillet with lime:
- Preheat the oven to 165° C (th.5-6).
- Wash the lime and take some zest.
- Wash and grate the half zucchini and cut the half-pepper into small pieces.
- In a bowl, mix the cream with the lemon zest. Season.
- Oil the inside of 4 sheets of parchment paper with a brush. In the center, lay the cod fillet, cover with cream mixture and zest.
Arrange the vegetables on the fish. Add some cherry tomatoes and
close the curls.
- Bake and cook for 20 minutes.
For quinoa:
- Cook the quinoa in the vegetable broth for 10 minutes, rinse.
- In a frying pan, sauté the quinoa in the foamy butter.
- Serve the papillote with quinoa.
Wellness and quinoa
Quinoa:
Round seed from America, it is often called the "Inca rice". Quinoa is a pseudo-cereal since it belongs to the family of chenopodiaceae (same family as that of beetroot and spinach). Quinoa is very digestible, gluten-free but rich in minerals such as phosphorus, magnesium and iron, as well as vitamins. Its protein intake (between 16 to 18%) and its essential amino acid composition allows this seed to be consumed as a single dish. In our diet, it replaces dishes composed of rice, semolina or pasta.
Recipe: A. Beauvais, Photo: C. Herlédan