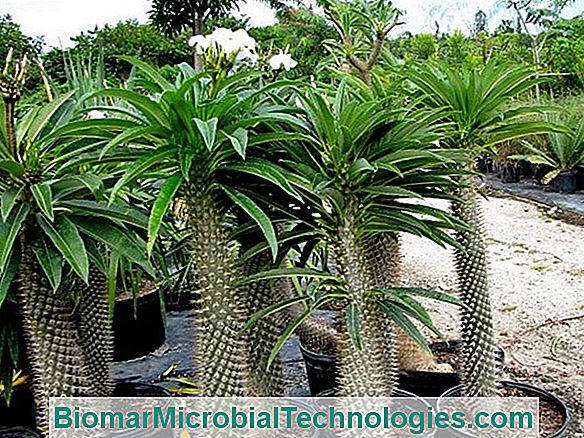 Contrary to what its current name indicates, the Brighamia insignis is not a palm tree but a herbaceous plant part of the succulents. Obviously, our climate has turned it here into a houseplant or veranda since the temperature must not fall below 8 to 10° C. The Hawaiian palm is an easy crop but slow growing!
It has a swollen caudex at its base, gray in color with scars, then rises straight up and ends in a tuft of rosette leaves. The deciduous leaves are shiny pale green, obovate in shape, convex and leathery, with very pronounced veins. They measure between 15 and 30 cm long and 8 to 12 cm wide. Latex can come out of the trunk when removed.
In winter, the Hawaiian palm can offer 5-lobed, lightly scented yellow tubular leaves. Without pollination, it does not give fruit.
In Hawaii, it has become a protected species: indeed the moth which is its only pollinator has disappeared, which compromises its reproduction. On the other hand, with an artificial pollination, it invades today the gardening and other decoration stores, in France!
Family: Campanulaceae
Type: perennial
Origin: Hawaii
Color: yellow flowers
Sowing: yes
Cutting: no
Planting: spring
Flowering period: November to January
Height: up to 1.5 m
Ideal soil and exposure for planting a Hawaiian palm tree in a pot
The Hawaiian palm will be planted in a mix of potting soil, sand and pozzolana. You will put it in a very bright place without direct sun.
Date of sowing of Hawaiian palm
Seedlings can be undertaken at 20° C, arming you with patience.
Hawaiian palm maintenance and cultivation council
Water when it is hot and slow down in winter: the soil must remain moist without excess water. Potting can be done in the spring when the Hawaiian palm is cramped.
Diseases, pests and parasites of Hawaiian palm
The mealybugs and red spiders are the enemies of the Hawaiian palm tree.
Recommended varieties of Hawaiian palm for indoor use
There are 2 species: Brighamia insignis whose Brighamia insignis 'Kirsten', a hybrid used for its safeguarding and Brighamia rockii or remyi with paler flowers.