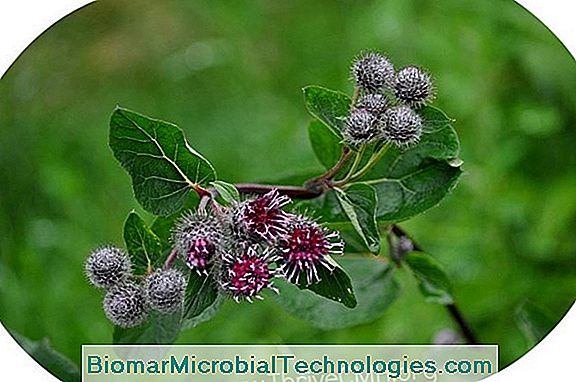 Agrimony is a bioindicator of a soil rich in nitrogen, which is commonly found in shady places, at the edge of wood, along hedges and paths. This herbaceous perennial of the Rosaceae family bears many vernacular names: Agronomy, Aigremoine eupatoire, Grass eupatoire, Eupatoire of the Greeks or elders, Herb of Saint Guillaume, tea of ​​the woods (it replaced the tea like pleasant aromatic drink!)...
Agrimony, astringent and antidiarrheal
Agrimonia eupatoria is a officinal plant that can measure 60 to 80cm. From its rhizomatous strain, a thick redish hairy stem develops, bearing hairy leaves, whitish green on the reverse, about twenty centimeters long, divided into toothed segments. The yellow flowers with 5 petals appear from June to September and form an erect cluster. They are followed by fruits with hooks that get caught in the hair of animals, thus contributing to the dispersal of seeds.
The aerial parts of Agrimonia eupatoria contain flavonoids (including luteolin) anti-inflammatory and tannins (including catechins). These have an astringent and antibacterial effect making the plant very effective against diarrhea accompanying digestive disorders.
The agrimony is not sown in the garden, in general, it grows spontaneously in the shady lands rather in the shade, but if you have some in your garden, it should be folded in March to 10 cm. It attracts foraging insects and auxiliaries.
The medicinal virtues of agrimony
It is the leaves and flowering tops that are used in herbal medicine, particularly for their antidiarrheal virtues but also to lower the glycemia of diabetics and stimulate the digestive functions.
Formerly used against cataracts, agrimony is today especially a remedy against diseases of the mouth and throat such as sore throat, angina, pharyngitis of speakers or singers.
Its high tannin content that makes it astringent has long been able to fight against spitting blood, as well as against hemorrhoids, heavy legs due to venous insufficiency.
Agrimony also serves to relieve inflammation of the skin and mucous membranes.
Agrimony is bought in pharmacy or herbalism, but when it is dry it loses almost all its active ingredients. It is presented and used in different ways:
in infusion: about 10 to 30 g of agrimony leaves / 1 liter of water (3 to 4 cups maximum / day) to infuse 10 minutes and to sweeten with honey,
in decoction: about 100 g of agrimony leaves / 1 liter of water, to boil until reduction to third: to use in poultice, gargle and mouthwashes.
To know about agrimony
Agrimony has been used in the past to dye ocher-yellow fabrics from its decoction.
The fragrant agrimony (Agrimonia procera) or tall agrimony is another species, larger in size, which recognizes the subtle smell that its leaves give off when they are wrinkled since it contains an essential oil.
The use of plants to heal must be done by asking a doctor, pharmacist or herbalist. Pregnant women, people with chronic and serious illnesses or taking medication should consult a doctor before self-medication can lead to adverse effects, including drug interactions.