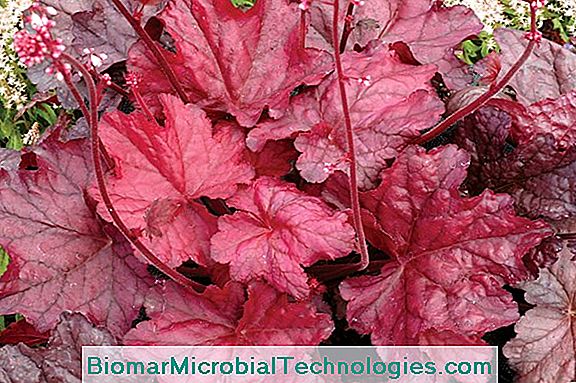 L'Heuchère is also known as Despair of the Painter because painters had a hard time making an exact reproduction of it. Heuchère is a perennial and easy to grow because of its hardiness. The heucheras are most often found in the gardens of grandmothers. Nowadays, many species have appeared offering a wide range of colors and shapes. Single or two-colored, the foliage adorns the garden all year round with new colors such as orange, red, silver, or caramel.
The evergreen and abundant leaves of the Heuchère can be lobed, rounded or toothed. Throughout the stem are clustered small flowers in the shape of bells. Splendid country bouquets can be made from flowers.
Family: Saxifragaceae
Type: perennial
Origin: North America
Color of the flower: red, green, pink, white
sowing: Yes
cutting: Yes
Planting: spring or autumn
Flowering: June to August
Height: 30 to 70 cm
Ideal floor and exposure for the heuchère
For a correct cultivation of the plant, a fresh, neutral soil rich in humus is more than enough. Exposure in full sun allows to obtain a more colorful flowering.
Sowing, planting, multiplication of the despair of the painter in the garden
Seedlings are to be done in nursery in April and transplanting is done in the ground in autumn. Tufts are split every three to four years during the spring or fall to prevent stem lignification.
Tip: Make sure the soil is always well drained to avoid the risk of plant rot.
Maintenance tip of Heuchera sanguinea
The foliage is pruned at the end of winter to reveal new leaves. The feet of the delicate species are to mulch at the arrival of the winter.
Diseases, pests and parasites of the heuchère
Otorhynchia, leaf eellets, and virus galls can damage the plant.
Location and favorable association of the painter's despair
In solid, rock or pot, the plant harmonizes especially with irises, grasses, foxgloves, columbines and daylilies.
Recommended varieties of heuchère to have beautiful flowers
There are more than 50 species of heucheras, among which Heuchera sanguinea but also Heuchera 'Red Spangles', blood red, Heuchera grossulariifolia, with white flowers, Heuchera micrantha var. diversifolia 'Palace Purple', with foliage in purple tones, Heuchera 'Rain of fire', with bright red flowers...