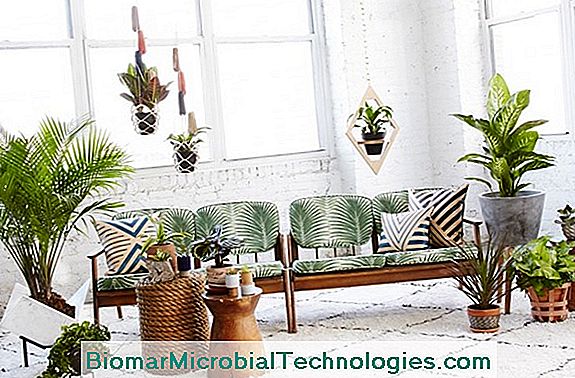 The Chrysalidocarpus lutescens is a small palm forming several stipes, covered by yellow foliar bases. Leaves can be up to 2 m in length with many fine, lanceolate, bright green leaflets.
In summer, panicles of small yellow flowers with 3 petals can appear over a length of 50 to 60 cm.
Being a plant from the rain forests of Madagascar and the surrounding islands, where it can reach 10 m high, the areca needs a minimum of 10° C, so it is grown as a houseplant or in a veranda. Moreover, the furniture and decoration stores were not mistaken because they sell at very affordable prices to adorn your home.
It is also part of the depolluting plants to remove xylene paints and formaldehyde from building materials. Be careful, however, the plant is toxic to pets, especially cats.
Family: Arecaceae
Type: houseplant
Origin: Madagascar
Color: yellow flowers
Sowing: yes
Cutting: no
Planting: spring
Flowering: summer
Height: up to 2 m indoors
Ideal soil and exposure for Chrysalidocarpus
Chrysalidocarpus is grown in a mix of loam, compost and sand, exposing it to bright light.
If you have the opportunity to plant outdoors, it will require fertile soil, fresh and well drained, in the sun or partial shade.
Date of sowing and planting of Chrysalidocarpus
Seeding can be done at 26-28° C after soaking the seeds in the spring, but it is a specialist business.
If you need potting or surfacing, do it in spring too,
Care and culture advice for Chrysalidocarpus
You will need to water once or twice a week in the summer and keep it dry in the winter. To give it a good hygrometry, put the pot on clay balls.
Diseases, pests and parasites of Chrysalidocarpus
Indoors or in the veranda, mealybugs and red spiders will be feared.
Location and favorable association of Chrysalidocarpus
It is a plant that is grown indoors, can be mixed with other indoor plants to form a kind of big hotpot. It is the most beautiful effect by its exotic and light side.
Recommended varieties of Chrysalidocarpus for your home
There are about twenty species but the most common is undoubtedly Chrysalidocarpus lutescens.