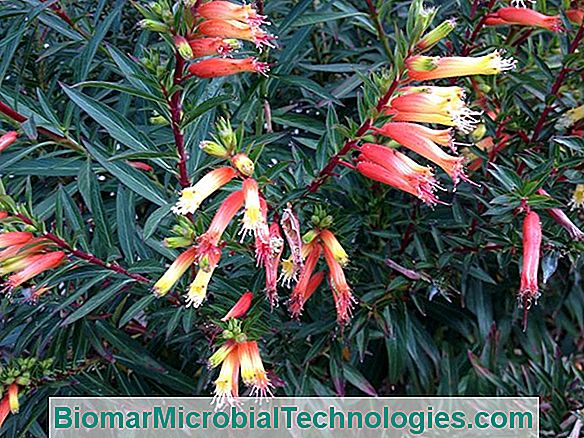 Callicarpa is mainly grown for its bunches of small spherical fruits 2 to 4 mm in diameter often very colorful, reminiscent of candy.
This bushy, upright shrub has deciduous, opposite, simple, elliptical leaves that can be up to 20 cm long. In autumn, before falling, they take a pretty yellow color. Be careful, some species are more hardy than others who can be chilly.
As early as July, small white flowers appear at the axils of the leaves but do not have much interest compared to the autumnal pink to purple berries which remain in place from September to December, with a decorative effect. They are not edible.
The more the callicarpa will enjoy the summer heat, the more it will grow abundantly.
Family: Verbenaceae
Type: shrub
Origin: Asia
Color: white flowers
Sowing: yes
Cutting: yes
Planting: autumn
Flowering: July-August
Height: up to 3 m
Ideal floor and exposure for callicarpa
Callicarpa is grown in full sun and heat in rich, deep, soft but non-calcareous soil.
Date of sowing, cutting and planting callicarpa
You can try sowing under a cold frame in the spring or in the fall or make herbaceous cuttings in the spring or semi-woody in the summer.
The planting will be done in the fall.
Advice of maintenance and culture of callicarpa
After winter, prune the callicarpa to keep a nice port and remove the old wood misplaced.
Diseases, pests and parasites of callicarpa
He has no known pests or specific diseases.
Location and favorable association of callicarpa
It is a shrub that finds its place in a massif.
Recommended varieties of callicarpa for planting in the garden
There are more than 150 species but you can choose Callicarpa bodinieri purple fruit, which is the most rustic of all since it withstands -20° C, Callicarpa japonica 'Leucocarpa' smaller in size (1.5 m), with its sloping port and white fruits, Callicarpa rubella, very cold (0° C) with bright purple purple fruit, that you will wait in winter cold greenhouse to release it in summer...