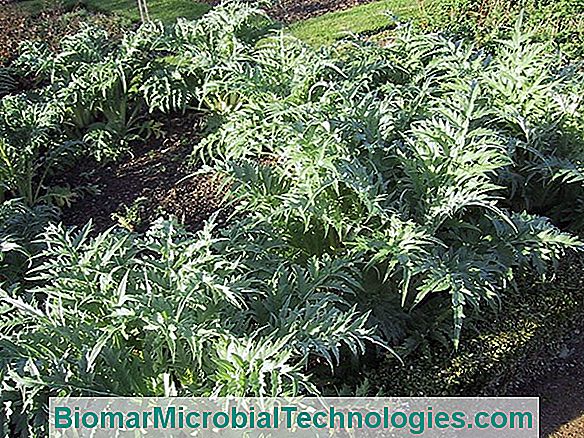 Cousin of the artichoke, the cardoon is a vegetable plant very appreciated for its fleshy ribs and not for its thorny leaves. Depending on the variety, the cardoon easily reaches 2 meters high. Its large leaves are silver gray and the flowers grouped in capitula are purplish.
These are the etiolated ribs of the cardoon that are consumed. Their taste is close to that of the artichoke and this vegetable is used cooked, au gratin, curry or white sauce.
Cardon has many therapeutic virtues, including laxatives and diuretics. In addition to its gastronomic qualities, the cardoon is very low in calories (13kcal / 100g) and rich in vitamins B and C, calcium and potassium. Because it is an easily developed vegetation, the cardoon is considered by some farmers to be an invasive plant, but it is also appreciated in the ornamental garden for its foliage which harmonizes very well with a mass of annuals or perennials.
Family: Asteraceae
Type: old perennial vegetable
Origin: Mediterranean Basin
Color of the flower: blue mauve
sowing: Yes
cutting: no
Planting: April
Harvest: October November
Height: 1.5 to 2 meters
Ideal soil and exposure for growing cardoon in the vegetable garden
Deep soil, rich in humus and fresh, with good sun exposure.
Date of sowing and planting of the cardoon
After sowing in nurseries or in pots in April, transplant the plants at the end of May, as soon as they have 3 leaves.
Board of maintenance and culture cardoon
Water regularly, especially during drought. To whiten the cardoon, it is advisable to mulch at the foot of the cardoon, 3 weeks before the harvest.
Harvesting, conservation and use of the cardoon
The cardoon should be consumed as soon as possible after picking and to make it less bitter, it is better to bleach the ribs.
Torn off in a mound, at the end of October, they can be kept, planted in sand, in cellar all winter long.
Diseases, pests and parasites of cardoon
Leaf spots, slugs and aphid attacks should be monitored.
Location and favorable association of cardoon with other vegetables
The cardoon is cultivated in the kitchen garden, with benevolence, radish and white clover as benevolent neighbors.
Varieties of cardon recommended for a plantation in the garden
You'll find different varieties such as Vaulx-en-Velin Cardon Green, Red Rib Cardoon, Spiny Cardon of Tours, Improved White, Full Smooth (without thorns)...