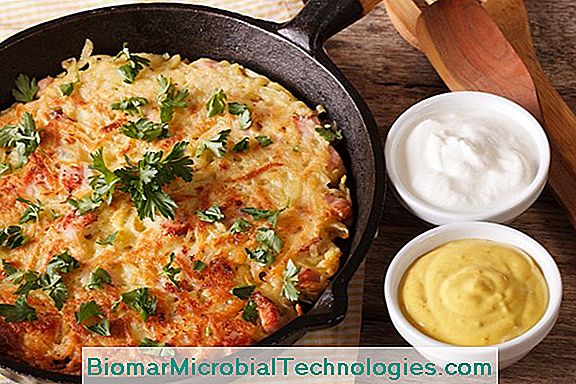 Treat yourself with these delicious Charlotte potatoes in rösti, ideally with a good salad.
Ingredients for 4 persons:
6 big potatoes (Charlotte)
100 g smoked diced bacon
10 sprigs of chives
50 g of butter
2 tbsp. oil soup
Salt and freshly ground pepper
Tonato sauce
2 eggs
1 tbsp. mustard
1 can of natural tuna
8 anchovy fillets
15 cl of grapeseed oil
2 tbsp. capers
Charlotte in rösti
- Wash and chive the chives.
- Blanch the bacon 2 minutes, drain and refresh. Brown in 20 g butter.
- Wash the skin of the potatoes. Place in a pan of water.
Bring to a boil, salt and cook for 10 minutes. Drain, let cool and peel. Grate these potatoes with a large grater. Place in a salad bowl with bacon and chives. Season and mix.
- Heat the remaining oil and butter in a non-stick frying pan, add the grated potatoes (do not over-thick, do it several times if necessary). Flatten slightly with a spatula.
Cook for 3 minutes over high heat and return. Continue cooking for another 3 minutes. Remove and blot on paper towels.
For the tonato sauce:
- Drain the tuna, crumble it.
- Chop the capers and anchovies.
- Make a mayonnaise: in a bowl, mix the egg yolks and mustard. Season and gradually pour the oil into thin fillets with a whisk. The mayonnaise should be firm. Add the remaining ingredients and mix.
- Serve rösti with tonato sauce!
B.A.BA OF THE CHIEF
- The cooking time of the rösti is indicative, it will depend on its thickness.
WORDS OF KITCHEN
whitewash: immerse a few minutes in a liquid (cold start for citrus zest, bacon... or boiling for green vegetables for example) brought to a boil to tenderize or mitigate the pungency of an ingredient.
Recipe: T. Bryone, Photo: C. Herlédan