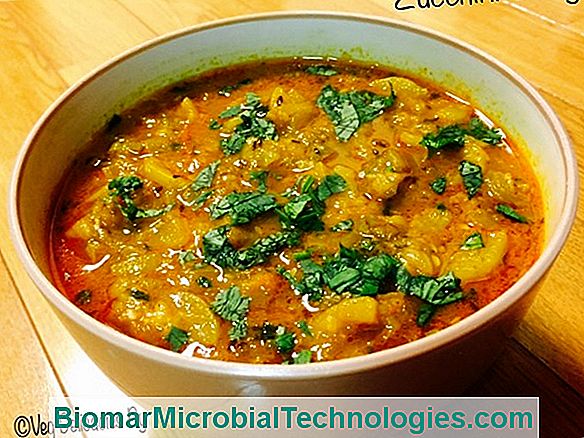 Zucchini curry is a tasty wedding and an ideal accompaniment to white meat and fish.
Ingredients for 4 persons:
1 piece of ginger
3 onions
1 kg of zucchini
50 cl of fermented milk
30 g of cornstarch
2 tbsp. tablespoon of sunflower oil
1 tbsp. coffee curry
1 tbsp. coffee mustard seeds
1 small box of chickpeas
4 tbsp. grated coconut
30 g cashew nuts
Salt and freshly ground pepper
Courgette Curry Recipe
Peel and grate 1 tbsp. fresh ginger.
Peel, wash and chop the onions.
Wash and cut the zucchini into slices.
Mix fermented milk and cornstarch.
In a pot,
Heat the oil, add the chopped onions.
Once the onions are colored, add the ginger and the curry.
Pour zucchini, mustard seeds and chickpeas.
Mix.
Season with a little salt and possibly pepper.
Cover and cook for 10 minutes, stirring and adding a little water from time to time.
Add coconut, cashews, cornstarch mixed with fermented milk, stir.
Cover and cook for another 20 minutes over low heat.
At the end of cooking, check the seasoning and serve with fragrant rice.
Suggestion: You can add water or vegetable broth to relax your zucchini curry.
Recipe: A. Beauvais, Photo: F. Hamel