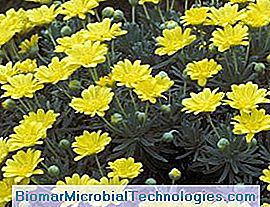 The daisy of Savane is part of the great Asteraceae family.
It offers a pretty bloom from spring to summer and poses no problem in terms of maintenance.
In summary, what you need to know:
Name: Euryops
Family: Asteraceae
Type: Perennial shrub

Height: 1 m
Exposure: Sunny
Ground: ordinary, drained

Foliage: Persistent
Flowering: March to November
Planting of the euryops:
Plant the euryops, the savannah daisy:
In the fall or spring in a light and rather rich soil to optimize the pretty flowering.
Prefer a place sunny and protected from the winter wind, you will then prolong the flowering.
Multiplication of the euryops, the savannah daisy:
You can simply performed a seedling directly in the ground or by cuttings in spring.
Size, maintenance of the euryops:
Fold down slightly after flowering to restore vigor to the plant.
Wintering of the savannah daisy:
If it freezes in your area, prefer a potted crop so you can return it in winter to a cool place but sheltered from frost and bright enough.
Elsewhere, you can leave them in the ground.
To know about the euryops:
The Euryops or Savannah Marguerite has the great advantage of blooming most of the year.
As a sub-shrub, it is bushy and offers a compact and generous flowering.
Easy to grow, it requires almost no maintenance and also finds its place in massive, that border or in hotpot.
Smart tip about Savannah daisy:
The variety Euryops Pectinatus can bloom all year long!