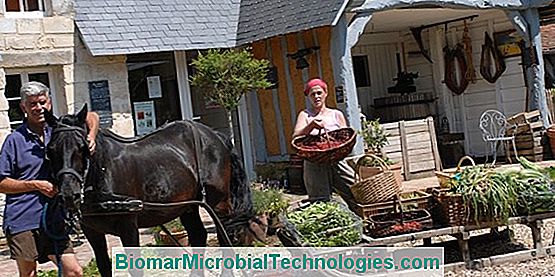 Perrine and Charles Hervé-GruyerIn 2004, you created the Bec Hellouin farm in Haute-Normandie, which has become the benchmark for permaculture.
First, can you trace the history of this organic farm project that has become a showcase for permaculture in France?
We moved to Bec Hellouin in 2004 after many years of studying nature all around the planet. Our dream was to live "like Indians in Normandy", in the intimacy of plants and animals. In 2006 we became organic market gardeners, without knowing anything about it. The first years were extremely difficult, so we looked for solutions. Our past of travelers made that we turned naturally towards what was done in America, in Asia... We met various sources of inspiration: the permaculture, then almost unknown in France, the micro-market gardening bio-intensive, and many others that we tested in our farm. Over the years, we have been able to develop a synthesis of multiple approaches, and scientifically demonstrate that the economic efficiency of the farm depends on its ecological efficiency.
Permaculture is now on the front pages of all magazines, reports and books about gardening: can you explain the principles of permaculture and the design of a permacultural garden?
A 5-year-old can understand the essence of permaculture: being inspired by nature. Put yourself humbly in the school of life and seek to create human settlements that function as ecosystems. Life on Earth has a fabulous experience: 3.8 billion years of evolution! Permaculture is an art of design and not a natural gardening method, but its applications in the garden allow us to reconcile our aspiration to renature the world around us while supporting our needs. The garden is thought of as an agroecosystem that operates in a loop, without generating waste, without large input requirements. Each element is positioned to multiply beneficial interactions with others.
The many parameters that need to be considered in order to embark on this design of a permaculture garden seem important and complex at first glance: is training necessary?
Of course! There is currently an explosion of books * dealing with these issues and documenting has become easy. Permaculture proposes to invest in the design of the place many observations, reflection, intelligence, so that the system is more autonomous and productive throughout its life. At Bec Hellouin, we have been organizing training courses for 9 years, which are now reserved for professionals because we are not in a position to welcome everyone, but we are preparing a very large practical manual that will be published in 2018.
Moreover, to whom is permaculture intended: to young people who want to start a professional market gardening activity on a small surface, to any amateur gardener, to city dwellers who have an urban garden?
Permaculture offers conceptual tools. It is a very open, pragmatic approach, able to adapt to all kinds of contexts. In this sense, it is addressed to all. For agricultural professionals, however, it should be noted that the concepts of permaculture complement the techniques, but do not replace them. We develop in our farm a completely manual approach, on a very small cultivated surface of a very high productivity and manage to produce as many vegetables per hour worked as our colleagues with a tractor, thanks to the concepts of permaculture and techniques and very specific tools. This approach makes it possible to create microferms on a small space, which is particularly interesting in urban areas.
Are these techniques fundamentally new or have they already been proven in the past? Are there any emblematic plants in permaculture?
At Bec Hellouin, our approach is quite iconoclastic because it finds sources of inspiration in the past, in the countries of the South, in the latest advances in contemporary science, and proposes to work by hand a very small surface... C ' is truly counter to contemporary agriculture, but we find that this approach helps to "heal the Earth" while feeding humans.We seek to take the best of the past and the best of modernity to invent the next step, a step that will, we hope, sustainably inhabit the Earth, which is the essence of the permacultural project ( perma-culture = permanent culture).
Trees are the favorite plants of permaculture, for the innumerable ecosystem services they render!
Has the success encountered by permaculture for some time been a characteristic marker of the evolution of society in the face of a new or changing environmental and societal approach?
Absolutely. Our ecological footprint is currently 1.5 planets and we are more numerous on Earth every day, which is suicidal. We must revisit the foundations of our civilization and invent a new culture based on respect for all forms of life. Our contemporaries are now well informed about ecological disasters, and many people are sincerely seeking ways to change their way of life and to commit to the good of all. Permaculture meets these aspirations because it has a very concrete side, "toolbox", which allows everyone to change their way of inhabiting the Earth, without waiting for the government to make major decisions. It's an approach that starts with each of us and gives power back to the citizens.
Or is it simply a fashion like that of the 70s with goats in Ardèche?
If we do nothing, our children will suffer a lot. It goes well beyond a fashion effect. I do not think the human species is endangered, but rather emerging. We are learning how to become truly human beings, how to exercise the power that our fabulous brain gives us to take care of all our fellow travelers, rather than to sow death. The real power is to serve. Permaculture is based on an ethic: caring for the Earth and people, sharing equitably.
Does the development and importance of your farm lead you to innovate and do research to go even further in experimentation? To work in partnership with other actors in the sector?
Yes. From 2011 to 2015, we conducted a first research project "Organic market gardening and economic performance", in partnership with INRA and AgroParisTech. The results have had the effect of a bomb in the agricultural world, they move the lines, including within institutions. Currently we are conducting 5 research programs related to many scientists and organizations. 7 people work there on our farm (without a euro of the state, by the way!). In view of the incredible hope aroused by this new approach to agriculture, and the exponential number of people aspiring to create a microferm, we quickly realized that, despite our efforts to welcome and respond, we will never be able to satisfy all the project leaders. We are strengthening our links with agricultural institutions, which are now more open to responding to atypical demands. These institutions are represented in each department, each territory. There is before us a huge training site for trainers and technicians. We are happy to work with the institutions because the true power of societal transformation passes by. But it will be long and we will go through years of trouble. Many people self-proclaim themselves experts in permaculture and start counseling others without practicing. It probably does not matter, the bottom line is that it moves everywhere!
What essential basic advice would you give to people who would like to start designing a permaculture garden?
Be a pragmatic dreamer. Dare to dream big, unfold your wings! Life goes by quickly and you are there to beautify and transform the world, even if it's a tiny piece of the world, big as a lawn! But to embody your vision in the material world, be concrete, realistic, document, train, work hard. Thus, you will succeed in creating a "Garden of Eden", an oasis of good life for you and for the entire community of the living. Each garden is like an acupuncture point that participates in the healing of the world.
* "Permaculture - Cure the earth, feed men" by Perrine and Charles Hervé-Gruyer (2014 reissued in March 2017) - Editions Actes Sud
(Photo credits - from top to bottom: Frédéric Sauvadet - Charles Hervé-Gruyer - DR - Actes Sud + vignette: Bec Hellouin organic farm)
Written by Nathalie on the 27/02/2017