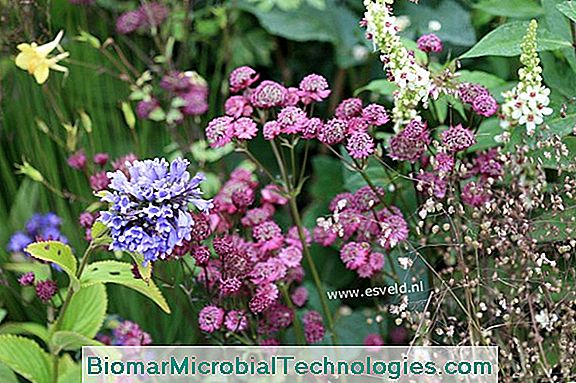 The great astrance (Astrantia major) makes it possible to create a flowery space in summer under the trees, which is not so common. This perennial plant forms branching tufts that can serve as a flower cover in the undergrowth and in the alpine meadows where it also grows, which confirms excellent hardiness.
At the base, its rosettes of toothed, webbed leaves, with 3 to 7 deep lobes, reach 10 to 15 cm long.
In June and July, the great astrance offers small white, pink, or purple flowers, surrounded by an involucre of very fine bracts, like a ruff, borne in umbels 2 to 3 cm in diameter. Very pretty, these flowers are used to compose bouquets fresh or dry.
Family: Apiaceae
Type: perennial
Origin: Europe
Color: white, pink, purple, deep purple red
Sowing: yes
Cutting: yes
Planting: spring or autumn
Flowering: June-July
Height: 40 to 80 cm
Ideal floor and exposure for Astrance
Astrance is cultivated in light shade, half shade or sieved sun in a rich, fresh and humiferous soil.
Date of sowing, division and planting of the astrance
Seedlings can be done under cold frame in the spring but it is also possible to divide the clumps. By leaving the withered flowers in place, the seeds will also resurrect themselves.
Spring or fall can give good results at planting.
Council of maintenance and culture of astrance
If the soil is too dry, water in summer and straw to keep freshness and moisture on the ground.
Harvesting, conservation and use of astrance
You can cut the flowers with their stems and dry them upside down, in the dark, to create dry bouquets. You can also cut them to make bouquets of fresh flowers.
Diseases, pests and parasites of the astrance
Slugs and snails are to be watched because, in a wet zone, they feast on the astrance, while powdery mildew is the enemy of the plant just like the aphids.
Location and favorable association of Astrance
It is a plant that is cultivated in flower beds of partial shade, in light undergrowth or in pots provided you do not forget to water it frequently.
Recommended varieties of astrance for planting in the garden
There are about ten species in total among which Astrantia major is the main one with some cultivars and subspecies that stand out: Astrantia major ssp. involucrata bracteoles that double the umbel, Astrantia major 'Alba' with white flowers, Astrantia major 'Hadspen Blood' with dark red flowers, Astrantia major 'Pink Pride' with light pink flowers...