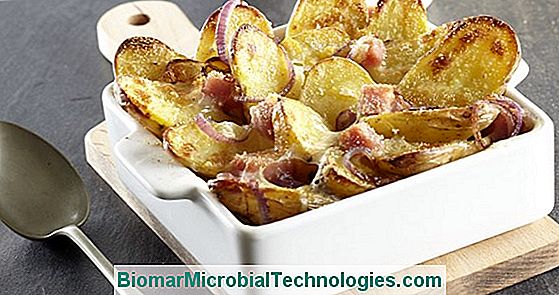 Enjoy this delicious Recipe of Potato Gratin Pompadour cream Maroilles and hazelnuts.
Preparation: 15mn
Cooking: 15mn
Ingredients for 4 persons:
800 g of potatoes Pompadour Label Rouge
300 g of Maroilles
30 cl of semi skimmed milk
30 cl whole cream
60 g chopped hazelnuts
garlic, thyme, laurel
4 pinches of fine salt
4 rounds of pepper mill
Gratin de Pompadour, cream of Maroilles and hazelnuts
Preheat the oven to 200° C (tea 6-7).
Wash the Pompadour Label Rouge and peel and cut into large slices.
In a saucepan, put the milk, cream, herbs and slices of potatoes, then season with salt and pepper. Bring to a boil and boil for 5 minutes.
Then drain the Pompadour Label Rouge while preserving the cooking juices. Reduce it to a syrupy consistency. Then add the Maroilles cheese
Arrange the Pompadour Label Rouge in a gratin dish, then pour the cream of Maroilles on it. Then sprinkle with chopped hazelnuts.
Bake at 200° C for 15 minutes.
About the Pompadour Label Rouge potato
The Pompadour Label Rouge potato is one of the best varieties with firm flesh. Hard to produce, it almost disappeared! She naturally has a delicious little taste of 'fresh butter', her skin is fine and she stands perfectly at cooking.
Cultivated by only 5 farmers in Picardy, it is harvested in September, it is found until May each year at primeur, on markets and in medium and large areas at a price of € 2.50 / kg.
It is one of the rare potatoes to have the Red Label of the Ministry of Agriculture which certifies its taste quality and its rigorous production specifications.