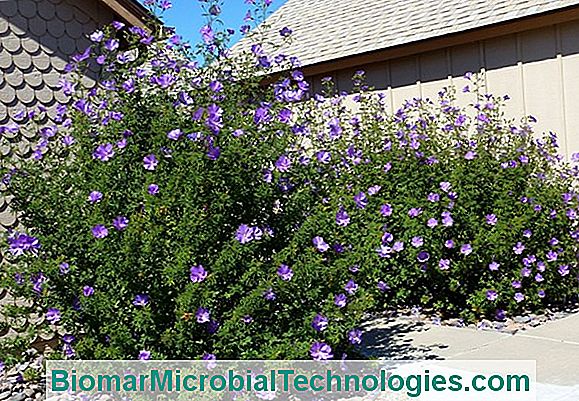 The lavatère is very similar, with its big flowers often purple, with hibiscus but, if they are part of the same family, they are different shrubs. There are over 25 species of shrub or sub-shrub lavatera that can be annual but are usually perennial.
Lavatère growth is very fast, which makes it interesting: the shoots start from the foot and have green-gray foliage that is persistent except in very very cold regions. The lavatera is resistant to temperatures down to about -15° C. They are wonderful in a flowering hedge but also in a tray, on a terrace, with their blooming that extends all summer, and even beyond.
Family: Malvaceae
Type: flowering shrub
Origin: Mediterranean region
Color: purple, white
Height: up to 3 m
sowing: Yes
cutting: Yes
Planting: spring fall
Flowering: summer until autumn
Soil and ideal exposure to plant a lavatera in a garden or in a pot
The lavatera will need a rich soil, well drained, not too wet, neutral in acidity, with a sunny exposure.
Date of sowing, planting, potting of lavatera
Seeding is possible but it is better to make a cutting from a rejection of the foot, or a traditional cutting between July and September.
Care and culture advice lavatère
In the spring, a severe size will rejuvenate the foot and get a full-bodied subject. During flowering, cut faded flowers to see new flower buds.
Diseases, pests and parasites of lavatera
Lavateres do not like moisture, which can lead to stump rot and rust.
Location and favorable association of lavatera
In a free hedge, with buddlea, tamarisk, perovskia and althea, for example, lavatera offers a nice effect. But in massive, it will marry well with agapanthus or lavender.
Varieties of lavatera recommended for a plantation in the garden
Lavatera Barnsley Baby, with pink flowers and which does not exceed 1,5 m high, Lavatera Shorty, Pink Frills, and MemoriesCompact ports are perfect for balconies and terraces. In the garden, let's mention Lavatera olbia Rosea, with pink flowers, Lavatera thuringiaca Barnsley, with white flowers, Lavatera x clementii Burgundy, with purple pink flowers...