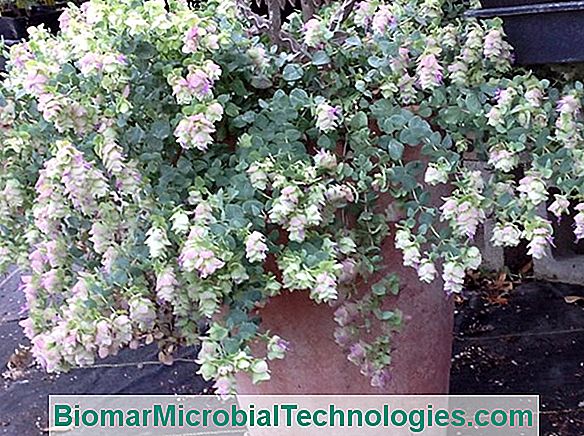 Origanum rotundifolium, known as oregano or marjoram, is a delicate and very aromatic plant, fragrant and easy to grow.
It is ideal for flavoring dishes, pizzas and grills
In summary, what you need to know:
Name: Origanum rotundifolium
Family: Lamiaceae
Type: Aromatic plant, perennial

Height: 40 to 60 cm
Exposure: Sunny
Ground: ordinary and light

Foliage: Persistent
Flowering : Summer
Seedlings, Origanum rotundifolium cultivation:
Planting of Origanum rotundifolium occurs ideally in early spring, towards March, under shelter. You will transplant in the ground at the end of the ice saints in the middle of May.
If you want to sow directly in placeWhether in the ground or in the garden of aromatic plants, also wait until the middle of May to avoid any risk of late frost.
In all cases, thin down to about 10 cm to allow the more vigorous young plants to grow properly.
Origanum rotundifolium loves the sun
Soil must be well drained, light and dry
Origanum rotundifolium does not fear sea spray
Harvest of Origanum rotundifolium:
You can pick marjoram leaves as and when you need them.
Choose the picking in the morning because it is at this time of the day that you will keep the best of its flavor and its aromas.
About Origanum rotundifolium:
Origanum rotundifolium does not like too much moisture combined with winter cold so it is best to plant it on a slight hillock.
She does not like the cold either and that is why, although vivacious, she is grown at home as an annual.
Very aromatic, Origanum rotundifolium is particularly suitable for dishes in sauce but also marinades and pizzas when dried.
Variety side, some are very decorative as 'Kent Beauty' which is adorned with pretty bracts and pink inflorescences.
We also like 'Dingle Fairy' which offers a beautiful flowering and remains very resistant to drought.
Smart tip about Origanum rotundifolium:
The persistence of its foliage makes the marjoram a perfect plant of kitchen garden, border or for your pots and planters.
To read about aromatic plants:
Aromatic plants, know everything