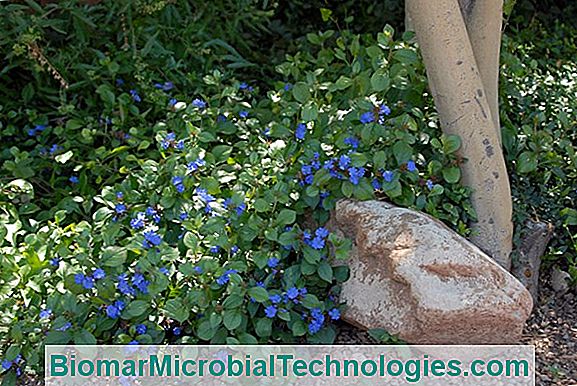 Ceratostigma are herbaceous perennials or deciduous or evergreen sub-shrubs depending on the species. The least cautious of them are the shrub species that manage to leave the base when the frost has made them suffer.
The small, oval leaves take pretty hues in the fall, ranging from red to bronze. They are deciduous for the perennial rhizomatous Ceratostigma plumbaginoides, which withstands -15° C, with its reddish stems.
Its five-lobed blue flowers with purple-red tubular throat and calyx are clustered in clusters and bloom in late summer, from August to October if it is not too cold.
This creeping plumbago can become invasive if it is allowed to grow as it sees fit.
Family: Plumbaginaceae
Type: perennial
Origin: West of China
Color: blue flowers
Sowing: no
Cutting: yes
Planting: spring
Flowering: August to October
Height: 40 cm to 1 m
Ideal soil and exposure for Ceratostigma
Ceratostigma is grown in full sun, on heat, in light, cool, and above all well-drained soil. Apart from this last indication, it is not very demanding on the nature of the soil.
Date of division and planting of Ceratostigma
Herbaceous and semi-woody cuttings occur in the spring and fall respectively. It is also possible to take releases during these two seasons.
If you buy them in pots, it is in the spring that you will plant Ceratostigma.
Care and culture council of Ceratostigma
The planting is done at the rate of 3 to 5 feet / m². Straw the soil well. After flowering, remove the faded stems, and prune in March.
Diseases, pests and parasites of Ceratostigma
Mildew can settle on Ceratostigma.
Location and favorable association of Ceratostigma
The Ceratostigma is cultivated on the edge, in massifs, on an embankment or in a pot, by favoring the sunny and sheltered exposures or against a warm wall for example.
Recommended varieties of Ceratostigma for planting in the garden
There are some 8 species but the most commonly encountered remains Ceratostigma plumbaginoides which is perfectly adapted to the borders with its 40 cm of height.
Ceratostigma willmottianum is a shrubby species that measures between 50cm and 1m with flowers of an intense blue blooming above the foliage from July until frost. In autumn, the leaves are adorned with golden colors and the shrub will spend the winter without any problem since it resists cold as drought. As Ceratostigma minus (1m) Ceratostigma willmottianum will be better in hedge or bushy than in border.
Ceratostigma griffithii (1 m) is less hardy (-5° C), it will have to stay in a cold greenhouse or in a veranda during the winter to be protected from frost...