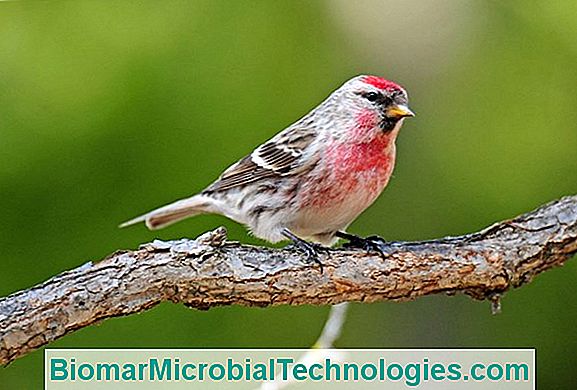 In winter, the suzerin associates with the siskin of the alders, with which it forms large bands.
The redpolls (Acanthis flammea). This pretty little bird that comes from the north measures up to 15 cm, weighs between 20 and 25 g and lives about 8 years.
All colors
Bright red cap.
Black spot under its straw yellow beak.
Gray-brown back, whitish belly.
Flank and spotted behind.
Wings striped with two clear bands.
The male has reddish breast.
Short and pointed beak.
His habitat
He lives in mixed woods, pine forests. He likes mountain conifers, birches, alders, willows.
It also comes in parks and gardens, even urban ones.
His habits
If the Central European Redpoll is sedentary, the Northern Redpoll migrates each year to Central and Northern Europe.
It's a rather stirring bird. Many couples can nest together, forming small colonies.
He is both granivorous and insectivorous. It feeds on birch seeds and conifers, buds, wild grasses. It is during the breeding season that he becomes insectivorous.
He is able to take very acrobatic positions, upside down, to catch the seeds he covets.
The female is the only one to hatch. In contrast, the male feeds regularly, and then helps feed their offspring, almost exclusively insects.
At the manger, he likes to have sunflower seeds, rapeseed, millet.
His singing
It emits trills interspersed with a kind of buzz.
The little more
This bird is very resistant to the cold. In winter, in some areas, the redpoll may be seen taking "snowbaths", as others may take baths of water or dust. He can also dig in the snow a hole in which he will spend the night.