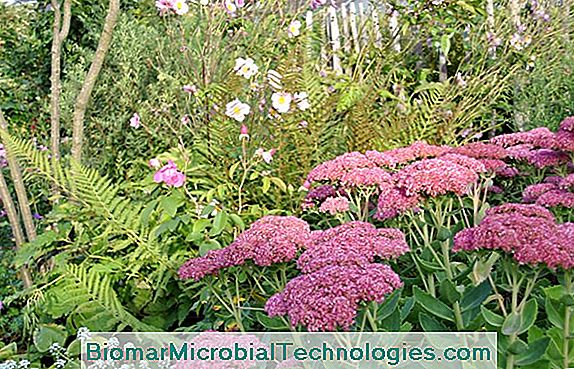 Name: Spectacular Sedum
Family: Crassulaceae
Type: Perennial, succulent

Height: 50 cm
Exposure: Sunny or partial shade
Ground: Ordinary

Foliage: Caduc
Flowering: August to October
Planting the stonecrop, sedum spectabile:
Indifferently, from spring to autumn.
Multiplication by division of the bunch in the spring.
Stonecrop size, sedum spectabile:
Cut short in the spring to stimulate the next bloom.
Comments on the stonecrop, sedum spectabile:
The stonecrop is one of the most common sedum and adapts perfectly to any type of climate or soil.
Easy to maintain, this plant is suitable for both arid and wet soils.
You install it on the edge, along an alley or in a solid mass but also in a pot to decorate terraces and balconies.
Smart advice about the stonecrop, sedum spectabile:
If you like butterflies, plant orpins because they attract them!
To read also:
The multiplication of perennials by division of the tuft.