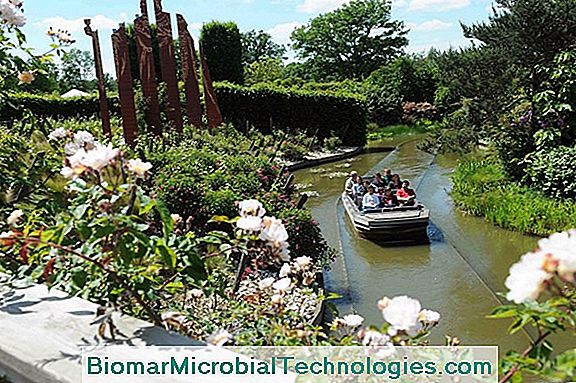 For its fourth season, Terra Botanica diversifies its activities with monthly themed events.
First park dedicated to the plant, this space of 11 hectares, near Angers, is organized around four worlds:
the coveted plant
the generous Vegetal
the mysterious Plant
Tamed Vegetal
Terra Botanica, the great adventure
Explorers for a day, visitors - young and old - roam these spaces dotted with some forty attractions: a ride on the water in electric "gabare", in the air aboard a pedal nut shell, multi-sensory theater and other playful or interactive scenographies.
Among the most spectacular, a projection in 4D which follows to the spectator, on a mobile chair, the unsuspected journey of two drops of water from the sky to the earth, via photosynthesis in the heart of a magnolia!
Before that, the adventure will have started in the XVIII
e
century, on the docks of a port where are landed valuable spices and medicinal plants. Immersed in the atmosphere of the greatest maritime and scientific expeditions, we move in a greenhouse and cross the Atlantic in the Tempêtarium alongside explorer Alexandre Von Humboldt and botanist Aimé Bonpland.
In the universe of the generous Vegetal, the local horticultural history, which counts eminent botanist figures (king René, Louis de Vilmorin...), is not forgotten, with a course on the medicinal cultures, the roses and the vineyards of Anjou. We also discover vegetable practices with entertainment based on water and automata.
The Mysterious Plant Zone, for its part, invites a more scientific discovery of plants, penetrating the heart of cells and going back to the origins of life on Earth.
The visit ends with the theme of Tame Vegetable, where we learn about the work of horticulturists and landscapers. The opportunity to learn more about horticultural practices (transplant, cuttings, layering, division, selection...) before going to devour a tasty "hamburger" plant at the Eco Resto VF created by the Michelin-starred chef Pascal Favre d Anne, a former student of Marc Veyrat.
Terra Botanica: address, phone and rates
Terra Botanica Park Address: Cantenay Epinard Road, 49000 Angers
Tel: 02 41 25 00 00
Entry fee 2013: 19 €. College and high school students: 15 €. From 4 to 12 years old included: 12 €.
terrabotanica.fr
By C. Levesque