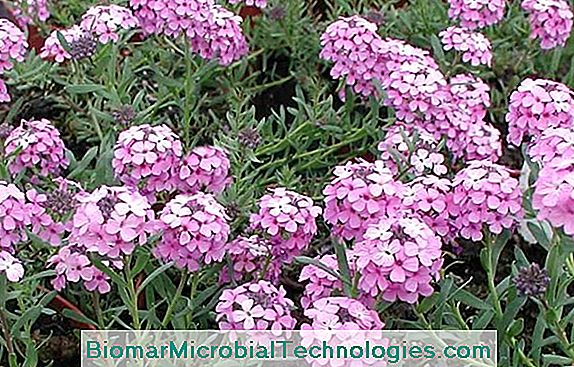 Aethioneme (Aethionema armenum) is a perennial shrub, very hardy (-15° C), woody base, compact port, which is perfectly suited to rock gardens because of its upholstering nature which forms a small cushion very regular.
Leaves linear, oblong, fleshy, blue to gray-green are between 0.5 and 1.5 cm long. They are reminiscent of the leaves of Brassicaceae, family to which the Aethionema belongs.
From May to July, the plant is covered with dense terminal clusters of small cruciform flowers, 4 petals, sometimes fragrant, pink, cream, white depending on the variety.
It is a plant for sunny places, it fears moisture, especially winter, and poorly drained soil. But its culture is easy.
Family: Brassicaceae
Type: perennial
Origin: Turkey, Caucasus
Color: pink, white, cream flowers
Sowing: yes
Cutting: yes
Planting: spring and autumn
Flowering: May to July
Height: 15 to 20 cm
Ideal soil and exposure for Aethionema armenum
The Aethionema armenum is grown in full sun in limestone soil, poor, cool in summer and well drained.
Date of sowing, cutting and planting of Aethionema armenum
Seedlings are under cold frame in the spring. Herbaceous cuttings can be made in May or June.
The planting is done either in April-May, or in September-October at a rate of ten feet / m² at least.
Board of maintenance and culture of Aethionema armenum
You can remove the faded flowers. If necessary, water in summer but it is not obligatory, it is really an easy care plant.
Diseases, pests and parasites of Aethionema armenum
Aphids can come to the plant, eventually.
Location and favorable association of Aethionema armenum
It is a plant that is grown on the edge, in rockery, in the interstices of a wall, in alpine garden, in pot...
Recommended varieties of Aethionema for planting in the garden
There are about 50 species in total but Aethionema armenum is the most common, especially Aethionema armenum 'Warley Rose' with bright pink flowers or Aethionema armenum 'Warley Ruber' with dark pink flowers.
Aethionema grandiflorum (20 to 30cm) has loose clusters of pale pink to dark pink flowers and she succeeds well in pot, Aethionema oppositifolium (5cm) with small clusters of lavender pink flowers...
(photo credit: Arthur Chapman - CC BY-NC 2.0)